If you are looking for a short day trip from Munich, look no further. Murnau offers the whole family a multitude of options that everyone will enjoy.
MURNAU
A small town situated at the foot of the Bavarian Alps, Murnau overlooks Lake Staffelsee and the Natural Reserve "Murnauer Moos". What´s best, is how close to Munich it is located. In just around 1 hour, Murnau can be reached by train or car.
Distance: 60-70km (on the way towards Garmisch-Partenkirchen)
By train: Regional trains from Munich Hauptbahnhof to Murnau leave as early as 05:00 in the morning and every hour thereafter. Use the Deutsche Bahn for latest timetables and prices. Murnau´s town center is a 15 minute walk from the train station.
By car: We drove to Murnau in approx. 45 minutes (this will depend on your speed and traffic). Parking: Metered parking is available. We parked right behind Murnau´s Castle (Schlossmuseum) on Pfarrstraße.
Landscape meets Culture
You can spend your day taking in Murnau´s beautiful landscape, but you can also immerse yourself in its arts and culture scene. Murnau is, in fact, famous for being home to the Expressionist movement.
Here are some recommendations on what to see while in Murnau.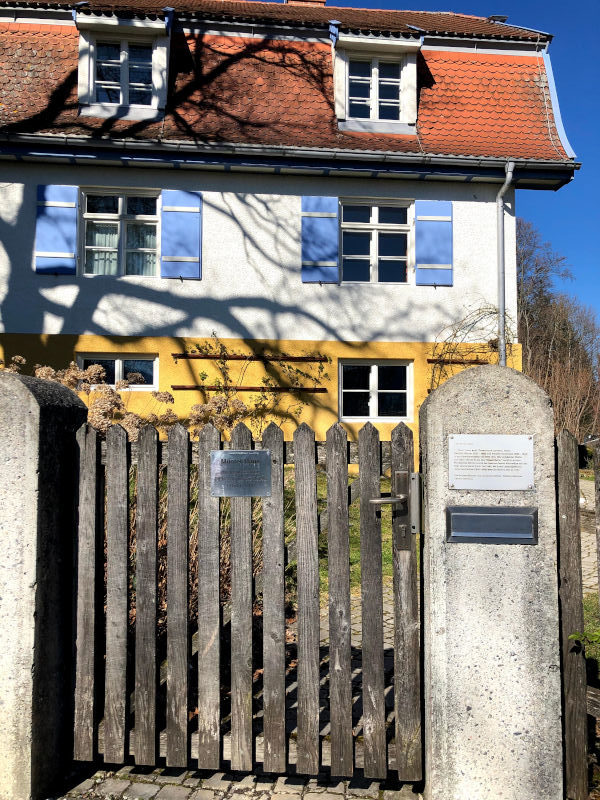 Gabriele Münter (1877-1962) purchased this house in Murnau in 1909. She lived in the Münter House with Wassily Kandinsky (1866-1944) until 1914. The view from the house and the immediate surroundings inspired both painters, as can be distinguished in many of their paintings. It was at this time that Kandinsky´s interest in abstract painting began.
Der Blaue Reiter (The Blue Rider) art movement was formed by Kandinsky, Gabriele Münter, as well as Franz Marc, August Macke, Paul Klee and others. The Münter House served as a meeting place for the group during 1911 – 1914.
When World War I broke out in 1914, Münter and Kandinsky first fled to Switzerland. As a Russian, Kandinsky was considered an enemy. They separated soon after.
In 1920, Gabriele Münter returned to Germany. And in 1931 moved back into her home in Murnau, where she remained until her death in 1962. During the Nazi regime, Münter safeguarded an invaluable number of paintings in her own basement. Mostly paintings by Wassily Kandinsky, but also works of her own and other major Blue Rider participants. Works that would have been confiscated and destroyed otherwise. Instead, many of them are on display at the Lenbachhaus in Munich, thanks to her generous donation.
The Münter-Haus was restored, according to her wishes, and opened to the public in 1999. It commemorates her artwork and that of Kandinsky and transports you to its original living conditions of 1909-1914.
What to see: the reverse glass paintings are of particular interest as well as the garden that Kandinsky designed. Also, do not miss the views of Murnau, available from all angles of the house.
Price: 3 Euros per person (over the age of 25)
Tip: Check the website for opening hours, guided tours, etc.
I admire Gabriele Münter as an artist, so I was happy to see that her artwork takes center stage at this museum. Several other works by Kandinsky, Franz Marc, other Blue Rider painters, as well as artists who found inspiration in Murnau are also on display.
The castle itself is around 800 years old and somewhat unremarkable, compared to other castles in Germany. Overall however, this medieval castle, the market town that grew around its walls and the town´s natural surroundings is quite impressive. One can see why so many artists flocked to Murnau and continue to do so, to this day.
Price: 10€
Tip: The exhibits are distributed throughout several floors, but there is an elevator available, if you need it. It is definitely worth a visit, so I highly recommend you put it on the itinerary.

St. Nicholas

Church
Right across from the museum is the 800 year old parish church of St. Nicholas. Most notable is the stark contrast between the plain exterior and the Baroque interior of the church. As most Baroque churches in Bavaria, this one is furnished in the same excessive amount of golden reliefs and vivid paintings. Most memorable were the rooster and hens strolling around the exterior.
Tip: I was not aware at the time, but I read that Gabriele Münter is buried in the church cemetery. Next time I will pay my respects.
Staffelsee
My toes can attest to the fact that this is one of the warmest lakes in Bavaria. A visit to this particular lake is a must. Not only because you can bath here, grill here, walk, run, bike, but because time stands still here. I felt a sense of serenity as I sat here watching the ducks chase each other until pairing up with their mates.
Tips: You can bike/hike the whole way around the lake, but be prepared. Although mostly flat, it is a 20.7km hike. The hike duration is estimated at 6:15 hours for the complete loop around. There is a way to shorten your hike by taking the ferry at certain points around the lake (see below), but not year-round.
Parking: is available at Freibad Murnau. We preferred to walk the 15 minutes from the center of Murnau along shaded trees and interesting parks.
Ferry around Staffelsee
We did not hop on/off the ferry, but you can travel across these pristine waters on an electric boat. The entire boat ride is 70 minutes. Please check the website, because it is not available year round and schedules have changed, due to COVID-19.
One of the most important and pristine wetlands or bogs in the Prealps, the Murnauer Moos is important due to its size and conditions. An exemplary nature reserve of approx. 4200 hectares, it is made up of moors, wet meadows and forest communities, where many unique and endangered fauna and flora have found refuge. Thanks to intensive protection efforts, the Murnauer Moos was designated a nature reserve in 1980.
Tip: There is a marked circular 12km hiking trail that you can do on your own or as part of a guided tour. For more info, click here. I did not have enough time to see this marvel. However, I do plan on going back in Autumn to do this hike. Who´s with me???
Visit Murnau
Well I hope you enjoyed this virtual trip and do wish you get to visit Murnau in person. If you have any questions, please let me know.
Similar Posts
A Day Trip from Munich to Bad Tölz