Walk through Old-Town Dachau´s narrow winding streets and don´t miss the short climb up to The Dachau Royal Palace. The views of Munich and the surrounding Alps, all while standing in the beautiful orchards and rose gardens of the palace will enchant you.
Dachau brings to mind tragic historical events. And Yes… Visiting the first Nazi concentration camp in Dachau can be very emotional.
However, don´t let this cast a grey cloud on the entire town, who´s history spans back 1200 years, making it older than Munich. And although you can combine the visit of Old Town Dachau with the Dachau Concentration Camp, we will focus today´s post solely on the Old Town of Dachau.
There is also much to see in terms of architecture, arts and culture, that it is worth a day trip in itself. Here is our recommended itinerary:
How to get there: S-bahn S2 or regional trains from Hauptbahnhof to Dachau (approximately 20 min ride). Then from the Dachau bahnhof, take Bus n°: 719 or 720 direction "Rathaus" or just walk the 20 minutes into the old town.
Start here to pick up a map, audio guide headphones (in English) or other event information. The staff is very friendly and helpful.
Address: Konrad-Adenauer-Straße 1
E-Mail: infobuero@dachau.de
Opening Hours: (times vary; check website)
Monday – Friday 9AM – 1PM and 2PM – 5PM;
Saturday 9AM – 1PM;
July – September: Sundays 9AM – 1PM
After the last Count of Dachau died without any heirs, the royal Wittelsbach family took over the property. Much of it´s original state has been renovated, damaged, torn down, leaving only the southwest wing and the original ballroom. Concerts of international acclaim are hosted here. A stroll around the Royal Gardens is worth the visit as well as the views of Munich with a backdrop of the Alps. A stop at the Palace Cafe & Restaurant for coffee and cake is a must.
Address: Schlossstraße 7
Opening hours for individual visitors:
April-September: 9 am-6 pm
October-March: 10 am-4 pm
Closed: Mondays; January 1, Shrove Tuesday, December 24/25/31
Admission: 2,- €/p.P. There are no regularly scheduled tours, but guided group tours may be booked in advance through the Tourist-Information Office: infobuero@dachau.de
Click here for general information on opening times and admission charges.
Note: One of the banquet halls can be booked for any number of events. Capacity: 550 persons (aprox.)
A small permanent collection of typical landscapes of Dachau as well as rotating exhibits are well worth the visit to this museum. It gives you a perspective as to why such a large Artist Colony moved here in the early 19th Century.
Address: Konrad-Adenauer-Strasse 3
Opening hours:
Tue-Fri 11 a.m. – 5 p.m.,
Sat/Sun/Holidays 1-5 p.m.
Closed: Saturday before Mardi Gras, Mardi Gras Tuesday, Good Friday, Easter Saturday, Nov 1, Dec 24/25/31
Guided tours by appointment only.
Admission: €5; For more on general admission, click here.
Other Museums & Sites:
Bezirksmuseum (District Museum of Dachau)
Three stories with over 2000 artifacts depicting the town's cultural history and folklore.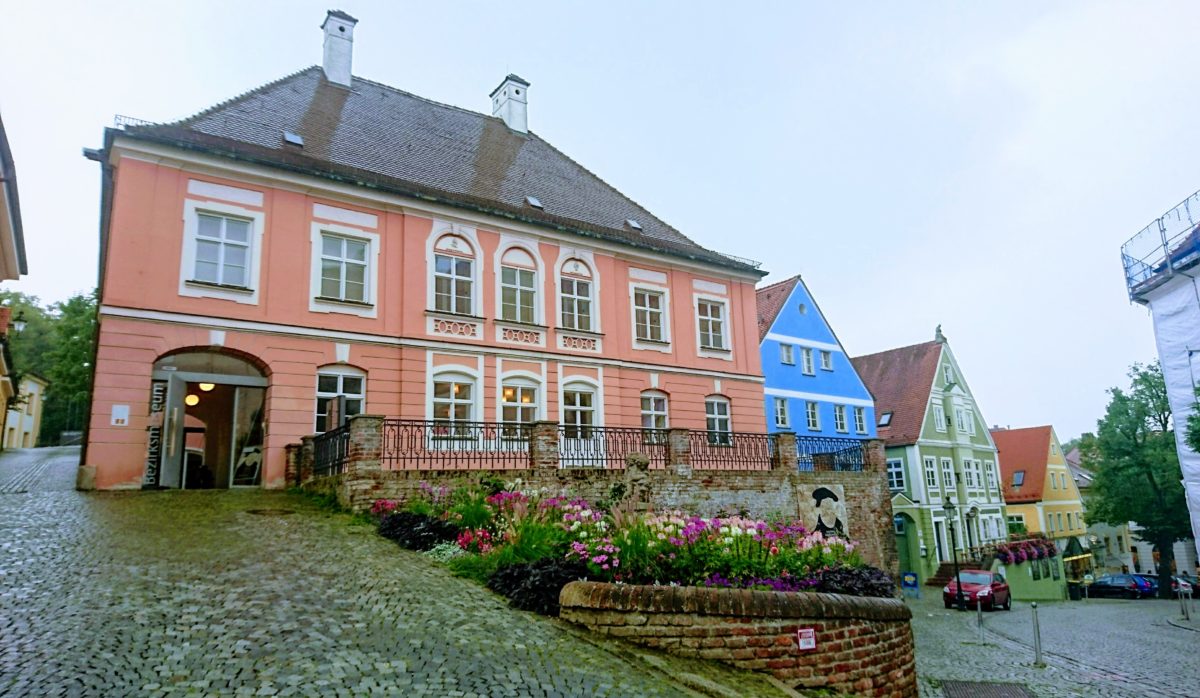 Hosting at least five exhibitions a year, many of them internationally acclaimed contemporary artists.
In the Old Town of Dachau, directly in front of the Tourist Information Building.
The main church of Old Town Dachau.
The end of the 19th century saw a colony of Impressionist painters such as Max Liebermann, Christian Morgenstern, Carl Spitzweg, Eduard Schleich the Elder or Adolf Hölzel, Ludwig Dill and Arthur Langhammer rise to prominence with their romantic interpretations of Dachau. In fact, so many artists lived in Dachau around 1900, that one in every ten people in the streets was said to be a painter.
Old Toll House at Karlsberg
Until 1929, tradesmen had to pay a toll to market their wares in Dachau.
As an alternative way to get from from the Sbahn to the Concentration Camp, the Tourist Information Center recommends walking the Path of Remembrance. This was the path walked by the Nazi's prisoners from the train to the Dachau Concentration Camp.
Ongoing & Upcoming Events
The Dachau Volkfest – or their very own Octoberfest, it is celebrated every August. For a smaller, more traditional Octoberfest feel, visit these local festivities.
The Long Night of Open Doors – Every September, starting around 7PM to Midnight you can visit museums, galleries, artist´s workshops and more. Free of cost.
For ongoing concerts, exhibits and more, get to the Water Tower for the latest.
There is much more to see in Old Town Dachau. Discover it for yourself.
Related Posts:
Day or Weekend Trip from Munich to Murnau
Recommended Walking Tour – Old Town Munich