When it comes to Indian cuisine in the West, it is mostly Punjabi & Mughalai cuisine that has become representative of our nation. The Mughals revolutionized north Indian cuisine. For instance, popular Indian food like Korma, Biryani, Gulab Jamun, served in most restaurants are Mughal creations. They represent only a small section of Indian fare!
Indian cuisine, as you might know, is diverse and distinctly regional specific. I hail from Tamil Nadu (meaning, the land of Tamil people), one of the four southern states in India. It is a tropical region with a coastline. The regional and cultural practices, religion, and the climatic factors have heavily influenced and shaped our gastronomy.
Tamil Cuisine
We firmly believe that an ideal meal must consist of all six tastes (sweet, salt, sour, pungent and astringent). This provides a perfect harmony when you eat. It is a portmanteau of words: Aru- six, suvai – taste. Hence our meals are called "Arusuvai Unavu"(unavu is food in Tamil). The traditional Indian medicinal systems like Siddha and Ayurveda correlates these six tastes with six energy points in our body that is necessary for internal balance and nutrition.
We strictly follow this principle in our Tamil new year's feast that falls on April 14th. The first image in the post consists of food that includes all 6 taste profiles! Serving a meal on a banana leaf is an age old custom!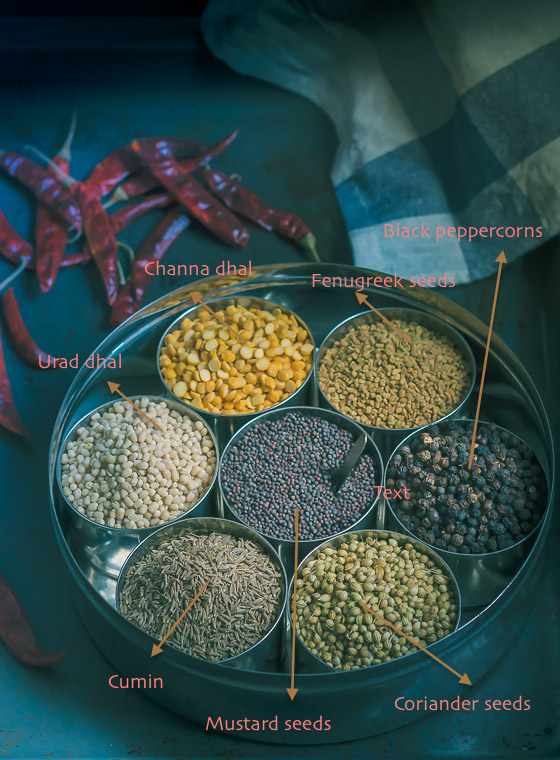 Tamil cooking is a combination of simple spices and ingredients that gives a wonderful end product. It is subtle, delicate and flavourfuI. It is well balanced and highly nutritious. Be it veg or non veg, once you know the pattern, it is quite easy to make Indian cuisine at home.
Spices like mustard seeds, cumin, black peppercorns, curry leaves are commonly used in our cooking.
As it is home to many tropical fruits and vegetables, they feature a lot in the local cuisine. Tamarind and coconut (flesh, milk & oil) play a major role. So are the dairy products (milk and yogurt). Being a hot and humid place, the yogurt rice at the end of a meal acts as a coolant and aids digestion.
Our meals revolve around rice and lentils. A typical lunch meal consists of rice, sambar (lentil & tamarind based gravy), rasam (tamarind or tomato-based thin gravy), and poriyal (a dry vegetable side dish). During special occasions, we include a salad, payasam (milk based dessert), and vada (lentil fritters).
You can find most of the recipes on my website.
Contrary to popular belief, Indian cuisine, especially in the south, has a huge percentage (< 80%) of non-vegetarian. The Chettinadu region of Tamil Nadu, is super popular for its spicy and aromatic non-veg food!
My family is vegetarian due to religious beliefs. Hence my blog is all about vegetarian dishes and I love showing people how delicious a plant based diet can be. My family recipes are fuss free, quick and mostly with simple ingredients. Our cuisine caters to all kinds of diet restrictions. It is clean, simple and delicious!
The recipe mentioned below is one of the simplest and healthiest ways to use greens. Generally, spinach is preferred. Cooked and mashed spinach is tempered with indian spices like mustard seeds, cumin seeds and dry red chillies.
Recipe for Keerai Masiyal (Mashed Spinach )
Prep Time: 5 minutes
Cook time: 20 minutes
Serves: 2
Ingredients:
750 grams spinach leaves, use stalks if they are tender
Salt as needed
2 cups water or as much as needed to cook the spinach
Tempering:
1 tablespoon coconut oil
¼ teaspoon mustard seeds
¼ teaspoon cumin seeds
Few curry leaves
2 to 3 dry red chilies
¼ teaspoon asafoetida powder
¼ teaspoon urad dal (optional)
Method of preparation:
Pick and wash the spinach leaves. In a pan, add a cup of water, salt, and the leaves. Cook on medium heat (without closing the lid) for about 10 to 12 minutes. Add some more water in between to cook the leaves if needed.
Once the leaves are cooked, reduce the flame and mash them well with a potato masher.
Once it is mashed well (becomes creamy and velvety), take it off the stove and transfer it to a serving bowl.
Heat coconut oil in another small pan over medium high. Once the oil is hot, add the mustard seeds and let it crackle. Then add the cumin seeds, curry leaves, dry red chilies and urad dal (if using). Stir and switch off the flame as soon as they start to become golden brown.
Pour this oil mixture over the cooked spinach. Mix well and check for salt.
Serve it as a side with rice.
Notes:
You can also use the stalk if they are tender. Else, discard them and only use the leaves.
The cooking time depends on how tender and fresh the leaves are. If they are matured, it might take a longer time to cook.
Adjust the amount of dry red chilies as per your heat tolerance. 2 red chilies yield a medium spice dish.
All ingredients can be purchased in Indian stores. Those in Munich, refer to this post on where to buy Indian grocery in Munich.