Here are a variety of podcasts that are fun, educational and downright useful for all Expats living in Germany.
Updated July 22, 2021
I love to listen to podcasts on my daily walks. Stories I can occasionally escape into and give myself up to completely. Some of my all-time favorites are The Rabbit Hole, Serial (1st & 3rd season), This American Life and so many more! 
But you are here for podcasts focusing on Germany.
So whether you are looking for German news in English, including COVID-19 updates, career hacks to find an English-speaking job in Germany or just want to hear expat stories, I have you covered. Learn all about German culture, integration and other fun survival tips. I even have a few recommendations to help improve your German listening skills.
First…
Which podcast player APP am I using?
I use Overcast, because it allows me to listen offline, rearrange my listening list and adjust the playback speed. It uses Smart Speed to shrink silences and picks up speed without distorting the conversation.
---
OK, now on to my podcast recommendations:
Shaun Behrens is an expat from South Africa living in Germany and the host of this fun podcast. If you live in Germany or plan to move to Germany, you will find his diverse set of guests relatable and a pleasure to listen to. Shaun's good humour and upbeat demeanor not only makes the conversation flow with his guests, but it also makes you want to pull up a chair and sit at the table with them. Follow Shaun on FB, Twitter and IG.
The Immigrant Spirit is a podcast hosted by Chris Pyak. He interviews reps from local German companies offering English speaking jobs. The actual decision makers share their job openings and provide you with tips on how best to apply. So if you are seeking, they are hiring. Chris Pyak also provides coaching sessions to help you get a job in Germany.
Annik Rubens is the wonderful host of this award winning podcast. If you possess a B1 level German grammar and you want to improve your listening comprehension, then this podcast is for you. In the program, Annik discusses cultural, social, political and current events in German, at a slow pace that you can understand. Episodes are weekly and under 10 minutes. Annik mentioned that she is open to suggestions on topics that you would like to hear on the show. All you have to do is email her.
I first heard Nicole moderating a panel discussion on the state of America, as it relates to racism, police reforms and the 2020 elections. This event was organized through the Carl-Shurz-Haus in Freiburg, so nothing to do with her podcast. Then I recalled listening to her interview on The German Experience with Shaun (mentioned above) and she was so friendly! So I subscribed to The Expat Cast. I really like her openness and concern with the way she approaches topics concerning expats. Follow Nicole on IG & Twitter.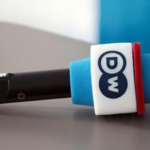 DW.com has so many wonderful podcasts about world news, health, the environment, learning German, that it is hard not to subscribe to their entire podcast selection. I'm listening to the following:
Science Unscripted  – Connor and Gabe provide daily updates on COVID-19 in under 5 minutes. Get the latest from medical experts in a very entertaining format.
Living Planet – discusses environmental issues and the challenges our planet faces.
Wort der Woche – learn a German word every day in under 2 minutes.
Alex and Geoff are two Americans who met in Berlin. They both loved offering advice to newly arrived Expats in Germany so much that the AGDW podcast was created. They open up and taste-test a new whisky in every episode and then just shoot the breeze. The conversations vary from Urban Exploration into abandoned buildings in Berlin to their love of nature in Germany. Other times they have guests and talk about learning German as a language or pointing out cultural differences. Visit their website or find them on IG.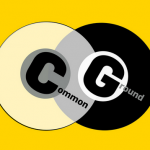 Soraya Sarhaddi Nelson, an award-winning international journalist + former NPR correspondent, hosts this informative podcast. She dives into important topics affecting us all. From global issues, such as, Climate Change, Gender Inequalities, and COVID to German short-comings and other local topics. A "must-have" for the English-speaking community in Germany.

If you live in Berlin, this 10 minute podcast will provide you with local news updates every weekday morning in English.
So how did you like my list?
What are you listening to?
Head on over to Instagram and share with the community.
Thanks for reading until the end!
Background Photo Credit: Jason Rosewell on Unsplash / Final Image: City Starlings created on Canva.
Suggested Reading
10 Popular German Superstitions
Marriage and Family Counseling for Cultural Diverse Couples
10 Most Popular German Authors of the 18th-20th Century