Nature, culture, history and a landscape that inspires – or maybe the healing, thermal baths will spark your interest. Bad Tölz has everything to re-energize your mind, body, and soul. A short trip from Munich, plan your weekend trip!
As most of us are starting to come out of hibernation, one trip that will help welcome in the Spring is a day trip to Bad Tölz, 50km south of Munich. Just follow the river Isar into the welcoming embrace of the Alps.
Bad Tölz has many claims to fame: its early history tracing back to 1180; their successful trade market that is centuries old; its local traditions & handcrafts; the very popular TV crime series (Der Bulle von Tölz – see below); its Christmas market; its healing iodine rich thermal spas and so much more.
How to get there:
Munich Hauptbahnhof to Bad Tölz
By Train: BOB trains get you there in one hour (tickets can be purchased at the central station)
By Car: 55 km, depending on traffic: 45-55 minutes
Parking:
The old town is pedestrian only, so you will have to park on the banks of the river Isar.
Where we parked: ZentralParkplatz P3, Bockschützstraße 14, 83646 Bad Tölz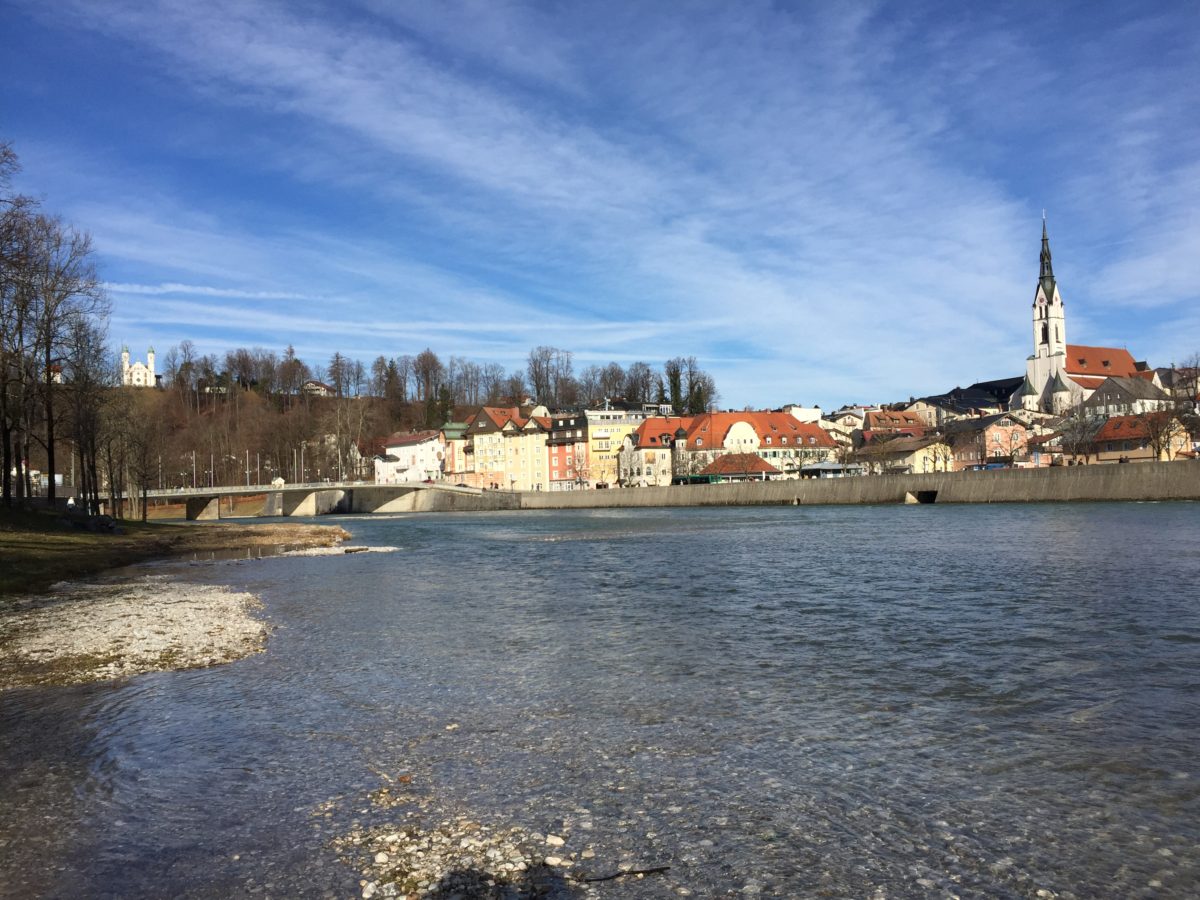 Walk along the bank of the river Isar up to the bridge (Brücke über Isar). You might even want to spend some time walking along the river, past the bridge, past the Isarlaufpark and enjoy the sights and sounds.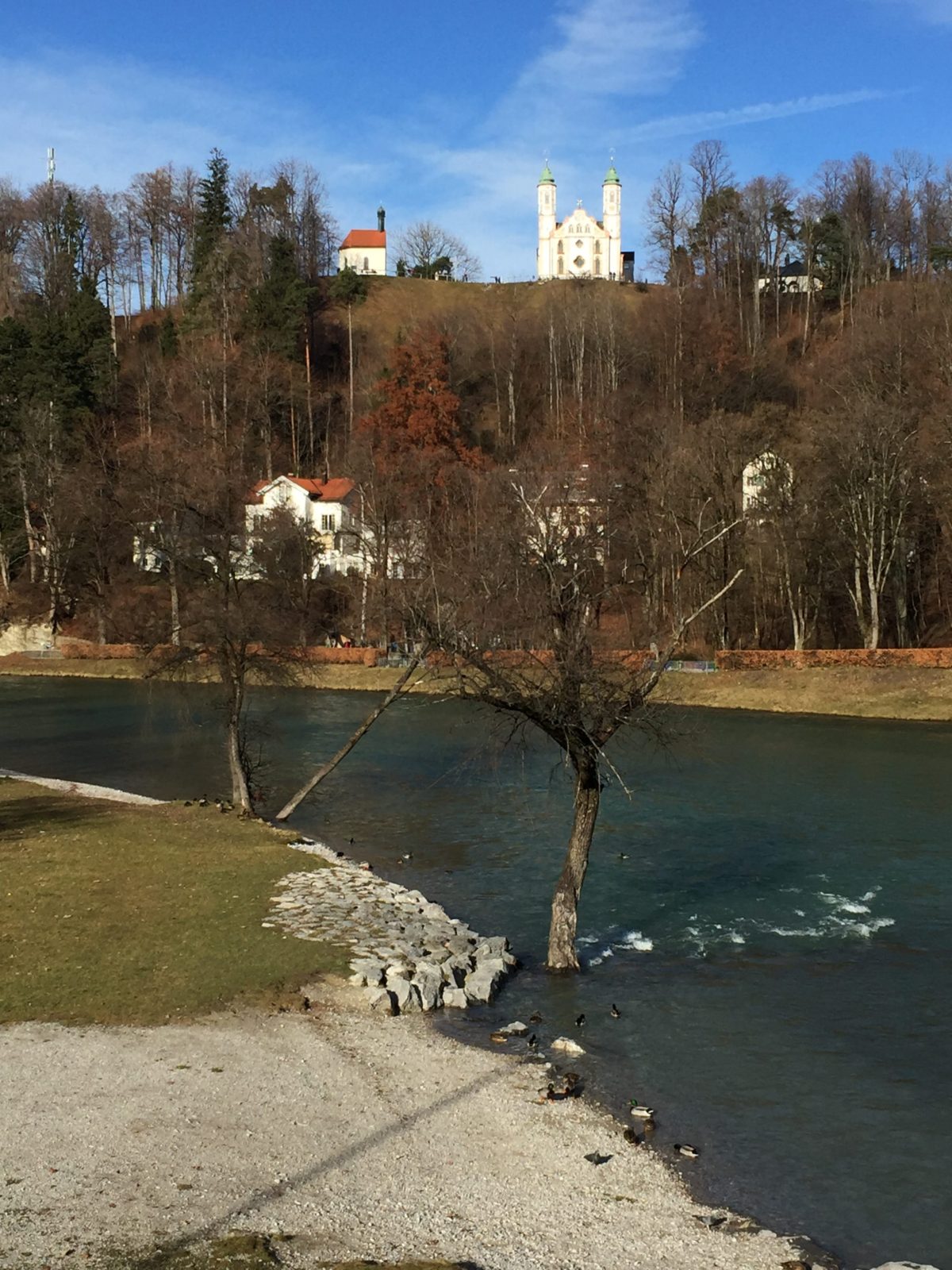 On the way back it might be time for coffee. Cafe Love has great coffee & pastries and is right on the river. Get your shot of caffeine and let's get going. Address: Amortpl. 2, 83646 Bad Tölz
Cross over the bridge to the other side and tada!.. you have made it to the old town.  It is a tiny town, but take your time strolling around the main street and its side streets to discover hidden gems.
Things To Do
Marktstrasse – this is the main street, which is where you can find most shops, museums, restaurants, cafes, ice cream parlors and more. Look up at the beautiful fresco paintings on the buildings. Each one tells a story. This Bavarian folkloric art is found in several towns in this region.
Bad Tölz Tourist-Information im Stadtmuseum – (see featured image) located within the Alte Rathouse (old Town Hall), this building has some impressive frescoes. I would start here and ask if there is a walking tour that you can take part in or if there's a special event or exhibit you can visit. Otherwise, grab a map and start walking. Address: Marktstraße 48 · 83646 Bad Tölz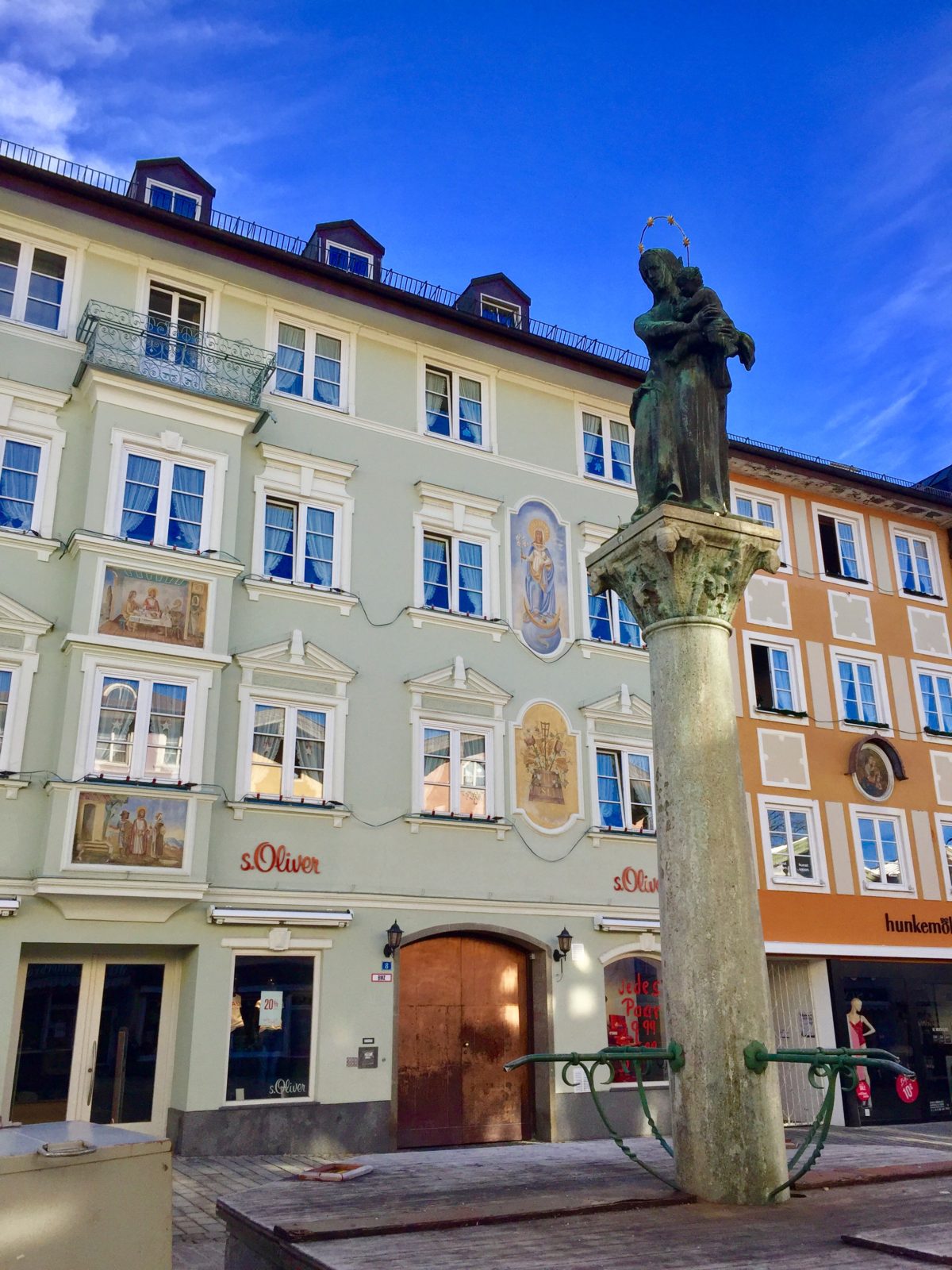 The Bad Tölz Tourist Info Desk shares the same building as the Stadt Museum, so you might want to continue your visit here:
Museums
Stadt Museum – covering all aspects of local culture and traditions, each floor focuses on a different facet of the town's history. Unfortunately, all of the information is in German. However, if you have done the walking tour in English, you will have a better understanding of what the museum is about. If you are staying in a hotel you might be able to use your guest card to get free access. The museum visit is worth it and can take up to an hour. Address: Marktstr. 48 · 83646 Bad Tölz
Bull von Tölz Museum – Fans of the TV cult-series "Bulle von Tölz" must visit the museum dedicated to all things from the original film set, which was filmed for over 14 years in Bad Tölz. Organized tours take you to the hidden corners of where this popular series was filmed.
Religious Sites
Stadtpfarrkirche Mariae Himmelfahrt – translated as the Church of the Assumption of St.Mary, this is a 15th century German late – Gothic architecture.
This slideshow requires JavaScript.
Kalvarienberg and the Heilig-Kreuz-Kirche – dating back to 1155 A.C. this site overlooks the city of  Bad Tölz with the Alps prominently part of the landscape. The easy walk up offers great views along the way. This is an amazing place to relax and breath in some fresh air. The church has an unusual layout and needs quite a number of repairs. Nevertheless, it is well worth a visit. This is the destination of the town's well-known Leonhardi pilgrimage.
This slideshow requires JavaScript.
Thermal Spas
In the mid-19th century, natural springs with iodine-rich waters were discovered and it became a healing spa town. In 1899 it became known as Bad Tölz. To this day people come to Bad Tölz for its healing waters. One well-known place is Alpenare.
Alpenare thermal baths – combine the fun summer water park concept with spa and wellness elements that I love.
(Unfortunately has closed down. If you can recommend another thermal bath, please do so in the comments below)
Where to Stay
If you plan on staying the night, we can recommend Posthotel Kolberbrau, ideally located in the heart of Bad Tölz.
Where to Eat
My father in-law had to try a Bavarian restaurant, so we ate at Metzgerbräu, right across from the Stadtpfarrkirche Mariae Himmelfahrt. We tried the traditional Schwein-Haxen (roasted pork leg), a Wiener Schnitzel (bread-crumbed veal cutlet) and a salad. The service was friendly and the price was reasonable. It´s a very classic Bavarian restaurant with a summer terrace facing the church. Address: Klammergasse 4, 83646 Bad Tölz, Bayern, Deutschland
Enjoy colorful Bad Tölz, as much as we did.
Related Posts: Trip to Caldaro, South Tyrol