Are you looking for a walking tour of Old-Town Munich that is absolutely free, that you can also do at your own pace and at any time of the day? Then continue on.
There are many companies that offer "free" walking tours. I try to join these groups whenever I'm in a new city. The local guides are always full of fun tips. You can usually find me at the front asking all kinds of questions. Yes, I am that geek!!!
However, if for some reason you prefer to go at your own pace, I have some great recommendations. This is the walking tour I take my friends and family on when they are in Munich.
Walking Tour Of Old-Town Munich 
Starting point:
Karlsplatz
Stachus, as the locals call it, was built after the Medieval walls were demolished. Luckily, Karlstor, one of the old city gates, still remains. In summer you will find many people cooling off next to the water fountain. In winter, the entire plaza turns into a Christmas Market with an ice skating rink and an upper level viewing platform.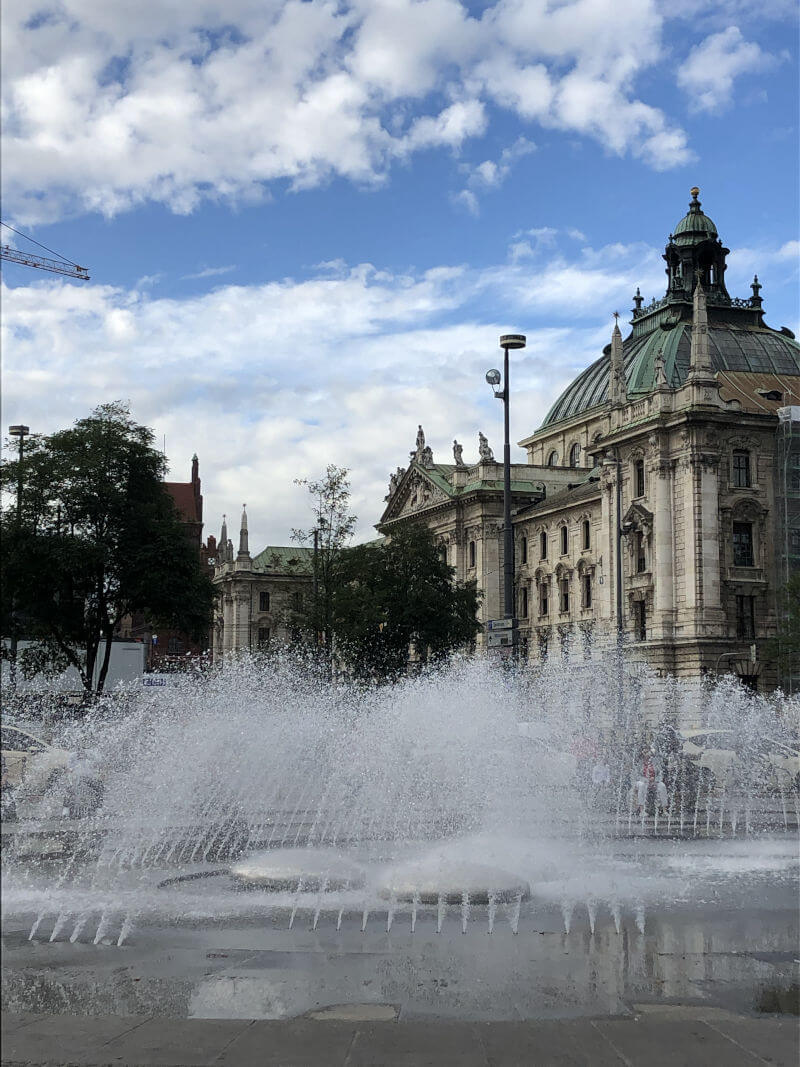 The Palace of Justice
Right across from Karlstor is the Palace of Justice. It is hard to miss this neo-Baroque style building with its 66m high glass dome. It is the administrative seat of the Bavarian Ministry of Justice.
From Karlstor, walk along the pedestrian-only Neuhauserstrasse – a street popular for shopping.
Important stops along the way:
The Marian Congregation has an unassuming simple façade, but walk up the side stairs to admire the immense Baroque-style church interior. Don't forget to visit the lower church, where a small museum is dedicated to Father Rupert Mayer. A Jesuit priest, he spoke out against National Socialism and faced several prison sentences due to his continued resistance.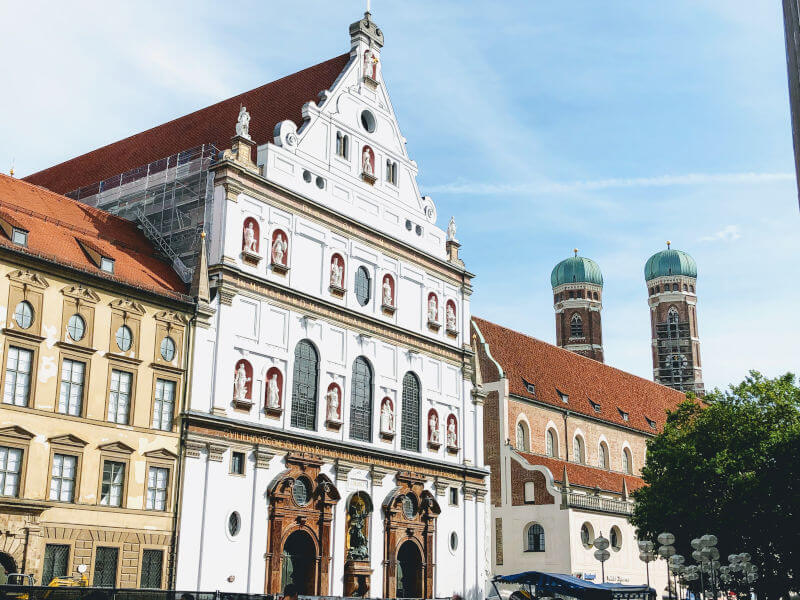 St. Michael's Church is known for being the largest Renaissance church north of the Alps. This Jesuit church was originally built in the late 16th century and mostly destroyed during WWII. By the entrance, you can find pictures of the destruction. Inside the crypt, there are several historical figures buried, including King Ludwig II, aka the Mad King.
continue the walking tour along Neuhauserstrasse until you reach…
Marienplatz
Soak up the beauty and the history of this plaza. Try to time your arrival so you can see the Town Hall's Glockenspiel in motion. Every day at 11 am and 12pm (including 5 pm in summer) the 43 bells and 32 figures of this elaborate "cuckoo clock" re-enact: a historical wedding followed by the cooper's dance to celebrate the end of the plague.
Walk up Rindermarkt until it turns into Oberanger street.
Sankt-Jakobs-Platz
A place to admire for its architectural wonder. It features a Jewish Synagogue, a Jewish Museum & Cultural Center. Right across is the Stadtmuseum (City Museum) with a wonderful little café called Stadt Café. I feel a sense of calm every time I pass through here.
Next stop is a foodie paradise full of market stalls selling food from around the world. There is a small beer garden where you can bring your food from other stalls, but you must order your drinks at the beer garden. There is a self-service area as well as a seated area where you can order typical Bavarian food such as Schweinshaxe (pork knuckle).
Head north to the…
Although packed with tourists and daily Oompah bands, I still recommend a quick visit. It's not just a beautiful 500 year old establishment, it also has a dark past. Head upstairs (3rd Floor) to the Festsaal (Festival Hall) to see where Hitler gave one of his first speeches to the Nazi party.
Continue to…
Catch a ballet or opera when in season. Or just admire this marvel, which was burned and destroyed three times since it was originally built in 1653. There are guided tours in English – check dates/times.
Further north is…
Odeonsplatz
Where Hitler and the Nazi party attempted a failed coup in 1923. In this plaza, you will see Munich's Theatiner Church of Cajetan, a 17th century symbol of the city. Opposite the church is…
The official residence and government seat of the Wittelsbach family, the Bavarian royals between 1508 and 1918. Take a stroll through the Residence Gardens (Hofgarten).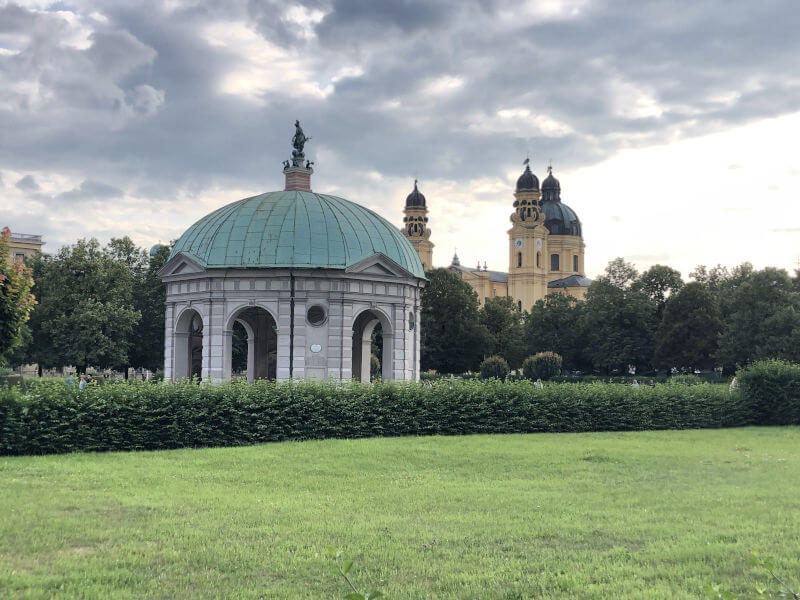 I think by now, you must be exhausted. So get some lunch, dinner, coffee, go home, re-charge and I'll be back with some other walking tours in and around Munich.
Coffee/Lunch recommendations in this area:
Tambosi – in summer they also serve in the Residence Hofgarten
Café Arzmiller – right next to the Theatiner Church
Maelu – has delicious desserts
Fünf Höfe – is a very small, but pretty indoor mall with several food/coffee options as well. Worth visiting.
Similar Reading Posts:
Don´t Miss These Museums While In Munich
Nuremberg Trip: A Beautiful City Worth Visiting
A Day Trip from Munich to Bad Tölz