Make the most of your museum outing in Munich! Combine culture with good food. Discover Munich's best museum eats here so that you can plan your perfect museum day!
With over 80 museums to visit in Munich, it can be helpful to know where you can grab a quick bite or sit down to a nice meal. Here is our list of the best places to eat whether you are touring your favorite museum or just want to enjoy a wonderful meal in a cultural atmosphere.
Art Museums
has a wonderful restaurant called Hunsinger, with a beautiful outdoor courtyard and an excellent seafood menu. Closed on Tuesdays.
you can grab a quick lunch in this stylish café called HORST Esskultur-Bar. Open for Breakfast, Lunch or Coffee. Closed on Mondays.
visit the Goldene Bar – located on the backside of the Haus Der Kunst. This café serves up a delectable rotating menu and then transforms into a "happening" bar in the evening. Opening hours: Café – Mon thru Sun 10 AM – 8 PM; Bar – Mon thru Sat until 2 AM
reserve a table at Ella. They serve up amazing food and fantastic views of Königsplatz! This stunning restaurant was named after Gabriele (Gabriella) Münter "Ella", Wassily Kandinsky's companion and dear friend. Directly located in the Lenbachaus. Closed Mondays.
select from the Käfer regional products at their Café • Bar Kunsthalle. Located on the first floor (not the ground floor); Open daily 10 AM – 8 PM. There are several other restaurants inside the FÜNF HÖFE.
with lunch at L'Osteria. With their fabulously large pizzas and other Italian specialties, it is the perfect lunch spot to refuel and recharge. Open daily, directly located at the Künstlerhaus.
Above L'Osteria, you will find a fancier spot called The Grill. With their offering of high quality steaks, this restaurant is a beautiful and tasty spot for dinner. Open Mon-Sat after 6 PM and offers terraced seating in the summer.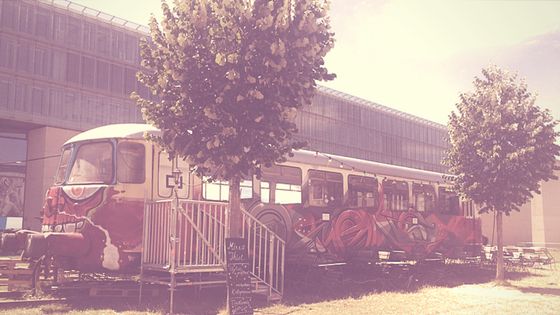 History & Culture Museums
What better way to end your visit at the Jewish Museum Munich,
than dining at Einstein, which specializes in Eastern and Western European Jewish and Mediterranean Israeli cuisine. Centrally located at St. Jakobs-Platz in the Israelitische Kultusgemeinde. Check homepage for opening hours and reservations.
the Stadtcafé offers a retro atmosphere with indoor and outdoor seating. It is centrally located and it is the perfect spot to relax. Open daily from 10 AM- midnight and on weekends until 1 AM.
you can find the Restaurant Bayerisches Nationalmuseum –  a modern and elegantly designed restaurant that perfectly juxtaposes the historicist architecture of the museum. BNM restaurant offers artfully plated dishes with local ingredients and excellent wine pairings.
Science & Technology Museums
Refuel after your long visit at the Deutsches Museum,
with a late lunch or dinner at Café Müller'sches Volksbad. Directly on the bank of the River Isar, the Volksbad is the oldest public swimming pool in Munich. Outdoor seating available in summer. Open daily 7:30 AM – 11 PM

OR dinner at
Blitz– fill up after a long day of museum hopping on healthy, inventive South American cuisine. Located near the Deutsches Museum, Blitz does not disappoint with its colorful ambiance, creative menu, and sublime yumminess! Open Tuesday – Saturday 6PM – 1AM.
grab a quick bite to eat at the snack bar or enjoy a wonderful meal at Restaurant Bavarie. Three places to choose from, catering to all taste buds as well as purse strings. Check website for opening hours.

Castle Museums
click here to read more about Royal Palaces in Munich
Schlosscafé im Palmenhaus – ideally situated on the castle grounds, the Palmenhaus used to house the exotic plants of Ludwig II, but today is a beautiful café. See home page for hours, event information and Sunday Brunch times.
Restaurant Schlossschänke – sit and relax at this beautiful restaurant either in the summer overlooking the lake or warm up in their cozy interior during the winter months. Closed on Tuesday.

Stereo Café – this stylish café is not actually part of the Residenz, but it is such a fantastic place to grab lunch or have coffee and cake, that we had to mention it! Located directly across from the Residenz, Stereo Café is situated on the first floor, above the men's clothing store of the same name.