The capital city of Tyrol, Innsbruck is a very picturesque town you won`t want to miss. Combine your ski holidays with a day trip to this charming city that is almost completely surrounded by the Alps.
Veer off the road for a short visit. You won`t regret it.
The old town (Altstadt) elegance boasts a predominantly Gothic and Baroque-style architecture. The streets are lined with medieval pastel-colored houses decorated with religious and historical murals and statues. You´ll want to photograph everything.
The palace with the Golden Roof (Goldenes Dachl) and its golden plated copper tiles is a must see. The balcony was built for Emperor Maximilian I, who used it as his royal box to watch the tournaments in the square below. The building now houses a museum, which maps out the history of Innsbruck.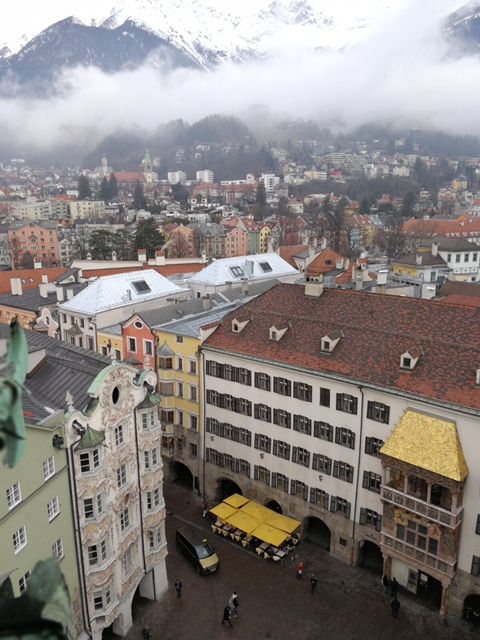 Walk up to the 31 meter high City Tower in the Old Town hall (Altes Rathaus) for a stunning 360 degree view of the mountains as well as all the landmarks of the old town.
The Cathedral of St. James (Dom) was built in Baroque style in the 18th century. It was rebuilt twice, the second time due to damage in WWII. Ceiling paintings include the Glorification of St. James, its rich stucco work by the Assam brothers.
Tips:
Start at the Tourist Information Office for a map and inquire about walking tours, exhibits, etc.
I suggest you visit Innsbruck on a weekday or a Saturday. On Sunday, all the shops are closed, except for some souvenir shops, restaurants & cafes (but not all are open).
Distance from Munich: 260km (approx)
Travel time by car: 2 Hrs (approx)
Travel time by train: 1Hr 44Min – 2Hr 15Min