Spring has finally arrived in Munich and we couldn't be more ready! So, this week, we are lucky enough to have Claire Ransom, from Lazy Flora, guest post for us on the six prettiest flowering plants for spring. The perfect "plantspiration" to help plan your perfect spring balcony!
Team City Starlings is always on the lookout for inspiring Expats doing incredible things! And this time, we can't wait to introduce you to the beautiful and talented guest writer, Claire Ransom from Lazy Flora.
About Lazy Flora

Lazy Flora is a "garden in a box" subscription service This brilliant, and much-needed delivery service helps those of us that want to create a pretty green and flowering oasis of our own, but without all the hassle of research, sourcing, or logistics to make it happen. And don't worry, no green thumb needed! 🙂
Currently available in the UK, Lazy Flora has now started to ship the outdoor collections to Germany. Click here to find out more about the current outdoor plant subscriptions and how it all works!
Now, let's find out which flowering plants Claire advises that are perfect for Spring, in this week's featured guest post!
"The 6 Prettiest Flowering Plants for Spring"
By Claire Ransom from Lazy Flora
As the weather turns slowly from winter to spring, and we're all looking forward to spending more time outside, there's nothing more exciting than seeing the new spring flowers bursting through. When you think of spring plants, most people think of spring bulbs like daffodils, croci, and tulips. I dearly love those plants, and they will always have a place on my balcony, but there are so many more plants that are just as easy to find, plant up, and care for, that you might not have tried before. I've put together the following list of plantspiration so that you can feel confident planting up slightly more unusual, and even more beautiful, plants.
1) Ranunculus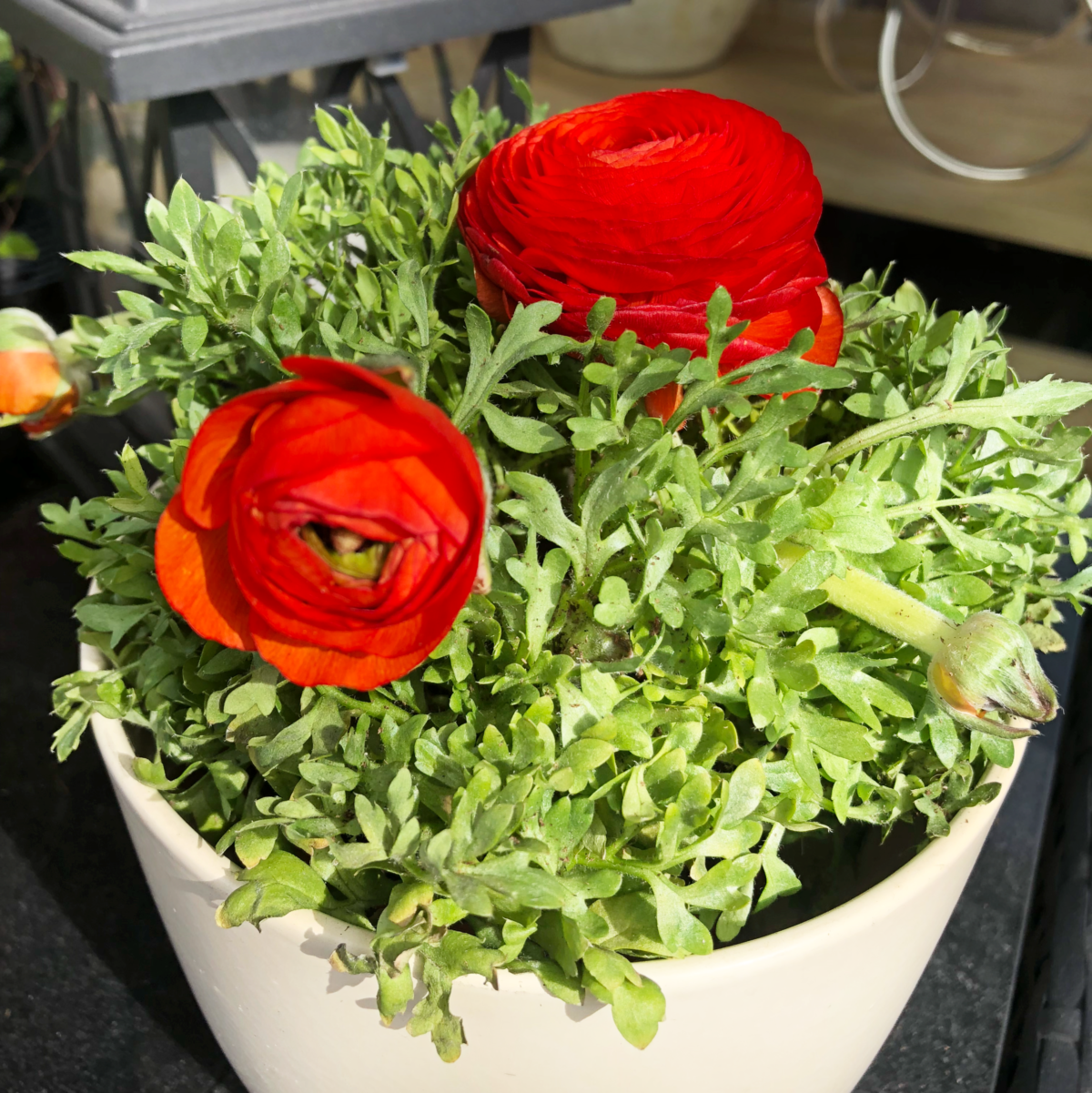 Move over peonies, ranunculus are the new showstopper. These are one of the most fashionable and stylish plants there are, and you'll often find them in gorgeous cut-flower displays.
Despite having a rather ridiculous name, when Ranunculus are blooming, they make some of the most stunning cut flowers, and I would encourage you to do just that! Cutting flowers will not hurt your plants – in fact, the more flowers you cut, the more the plant will produce.
2) Violas
I just love the cheery brightness of violas, which include violets and pansies, and the multitude of colours and varieties you can get. Although the petals on flowers do tend to get a bit damaged by heavy rain or snow, these delicate-looking plants are surprisingly hardy, will bounce back when the temperature increases, and when the temperature outside starts increasing for real when spring arrives properly, they will add a real splash of bold colour. By the time spring rolls around, they put forward perfect textured blooms in virtually every shade you can think of.
3) Iris
I've got to be honest: Irises are some of my favourite flowers. I just love how spectacular and regal they are, with their structured colour and bold, upright appearance. They look proud to be alive! I think if I could, I would have irises in my life all year round.
Irises grow from tubers, so they're another wonderful plant that requires very little maintenance from year to year. They rest happily and easily in moist ground during the winter and similarly enjoy damp conditions in the summer. In fact, you find many varieties of iris around swamps and marshes. They come in lots of different colours, but you should especially watch out for the blue, purple and yellow ones.
4) Primulas
Primulas provide some of the most reliable colour at this time of year. They just don't seem to stop flowering from the first sign of spring, all the way through to late spring. And the great news is, the more you dead-head them, they better they'll look! If you notice some of the blooms looking a little worse for wear, the chances are that when you take the head off, you'll already find several more vivid buds ready to burst out any minute.
The name 'primula' comes from the Latin 'primus', meaning 'early' or 'first'. This is because it's one of the earliest spring plants you will see in gardens and woodland. It's a perennial plant that will come back year after year.
If you dead-head primulas throughout the spring, they will continue to flower. They will put on vigorous growth once the spring temperatures start to rise.
5) Forget-me-not
Forget-me-nots are often found on the banks of rivers. It is said that they are named for the German words 'Vergiss mein Nicht' spoken by a knight who threw a handful of these flowers as he was swept away from his love down the river. They are often used as a leaving gift, for example when someone who is moving on to a new job.
Forget-me-nots are an early spring plant, but they won't be the first plants you see of the season. They tend to enjoy fractionally warmer weather than the likes of croci, narcissi, snowdrops and winter aconite, so they will appear in the second wave of blooms you see in early spring.
6) Alpine Wallflower
This lovely fragrant plant is native to the Alps. Despite being a cheery and colourful addition to any garden, they are actually related to the Mustard family. Because this plant often grows near walls or in cracks in walls or pavements, the term 'wallflower' is often used to describe people who tend to feel comfortable standing at the edge of the room at parties, rather than being the life and soul of the party.
Of course, you can find many of these plants in our latest Lazy Flora plant subscription box. We deliver free of charge to Germany and have clients in and around Munich who love what we do. Check out www.lazyflora.com for more information.
If you want more inspiration for what to plant throughout the year, you can download our free Lazy Flora flowering plants calendar here!
---

Written by Claire Ransom, the founder of Lazy Flora. Claire moved to Munich in July 2016 and immediately fell in love with the mountains and lakes of Bavaria. She launched Lazy Flora, an online plant subscription service, from her balcony in Munich in July last year, and has been spurred on by the encouragement and support of fellow entrepreneurs in Munich ever since. Lazy Flora delivers beautiful seasonal plants to your door, all year round. To see more about what Claire does, check out www.lazyflora.com.
Related Post: Kia-Charlotta: Vegan Beauty with a Soul